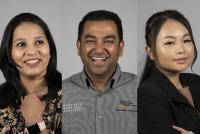 Forms, documents & further information
Below you can find all information and documents relating to our connection services. Please be aware that during this transition process for AEMCs 'Power of Choice', not all information has been updated. However, we are working to resolve this as quickly as possible.
Connections
If you are a residential customer, a small business customer or a small embedded generator, once your connection is established, we will provide ongoing electricity supply to you according to the standard supply contract we have with you. This is a deemed standard contract approved by the Australian Energy Regulator. You do not need to sign the contract.
SA Power Networks is regulated to provide connection services in accordance with Chapter 5A of the National Electricity Rules (NER) and complying with the National Energy Customer Framework (NECF). Our obligations are detailed in SA Power Networks Connection Policy and sets out our methodology in applying the following;
Provision of connection offers, associated terms and conditions and service standards to provide a formal offer
Our methodology for determining a customers connection charge (if applicable)
The contestable parts of our connection services
A customers allocation of augmentation (if applicable)
Any rebates towards a customers connection
Downstream customer contributions (if applicable)
Specific requirements for residential , commercial and industrial developments
Definitions and National Electricity Rule requirements
Negotiated connection process flow
List of basic connection services (please see section 6.1)
Notification of installation of life support equipment
Fact sheet - customer connections charges explained
Contact list for customer connection works
Solar and embedded generation
Small embedded generator application form
NICC 270 Guide for Connecting Large Embedded Generation (Contact SA Power Networks for further information)
TS129 Small Inverter Energy Systems (IES) - Capacity not exceeding 30kW
TS130 Technical Standard for Large Solar PV up to 200kW
TS131 Technical Standard for Large Solar PV above 200kW or Rotating Generating Systems
Application to Connect Form - Large Solar PV up to 200kW
Enquiry Form - Large Embedded Generation over 200kW
Register of Completed Embedded Generation Projects
Meter
Authorised representative registration form
Your meter data terms and conditions
Registered electricians
REX- Registered Electricians Centre
Electrical construction contractors
Commercial, industrial and developer connection
Negotiated Connection Process Flow
SA Power Networks approved external designers contact list
Electrical construction contractors
3302 – Construction terms (non-contestable & contestable)
Requesting network access
Terms and conditions for network access pursuant to a network access permit
Regulatory information
Fact sheet - National Energy Customer Framework
Terms and conditions
Before we can provide the service you require, you must read and accept the terms and conditions of the model standing offer. The model standing offer has been approved by the Australian Energy Regulator. By submitting a connection/alteration application to us requesting an expedited basic connection service, it is taken that you have accepted our offer and have agreed to all the terms and conditions.
3601 – Model Standing Offer for Basic Connection Services for Retail Customers Other Than Embedded Generators
3602 – Model Standing Offer for Basic Connection Services for Retail Customers Who Are Small Generators
3603 - Model terms & conditions for deemed standard connection contract
3604 – Deemed large customer connection contract
3302 – Construction terms (non-contestable & contestable)
Your meter data terms and conditions
Terms and conditions for network access pursuant to a network access permit
Further information
Terms and conditions for network access pursuant to a network access permit
2017 Network tariff negotiated services manual
Network tariff: demand change request
Complaints, enquiries and dispute management process